I'm so excited, because today I'm a BFF today over at Things I Can't Say.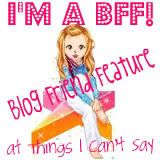 In case you don't know, Shell over at Things I Can't Say is my bloggy sis. She gets me. She makes me laugh. And she knows what a motherbitch is.
And unfortuantely, I know what a motherbitch is too. If you are curious as to what constitutes being labeled a motherbitch, go over and check out my list on Shell's blog. And if you aren't already following her, then make sure you do. Otherwise, you might be a motherbitch.
Have an awesome weekend!
*Comments Off*